Radiation Frost Detector
The SF-110 is a unique temperature sensor designed to predict the temperature of fruit buds and leaves rather than the air temperature. Because this difference can be 4 to 8 C (8 to 15 F), a standard air temperature sensor in a multi-plate radiation shield can fail to alert growers even when fragile flower buds are freezing. Growers are aware of this inaccuracy, and often overcompensate by activating frost protection fans and heaters when they are not necessary. In large orchards this cost can be $200 for every minute of operation. Integrating the SF-110 radiation frost detector into your crop protection system saves money by eliminating the guesswork in timing the activation of orchard frost protection.
The SF-110 is a combination of two temperature sensors (precision thermistors) in a single housing. One sensor is designed to mimic a plant leaf and the other a flower bud. The SF-110 provides close approximations to leaf and bud temperatures and can be used for prediction of frost on leaves and buds.
On clear, calm nights, leaf and bud temperature can drop below freezing even if air temperature remains slightly above 0 °C (see Figure 1 below). This is called a radiation frost and is due to the lack of air mixing (wind) near the surface, and a negative net longwave radiation balance at the surface (more longwave radiation is being emitted from the surface than what the surface is absorbing from the clear sky). Under cloudy and/or windy conditions, radiation frost events do not occur.
The temperature measurement range of the SF-110 is -40 to +70 °C with an accuracy of ± 0.1 °C from 0 to +70 °C. However, the sensor is intended for applications in cropped fields and orchards when temperatures will be near freezing, and where air temperature measurements are not a good predictor of frost formation (Figure 1). Shop>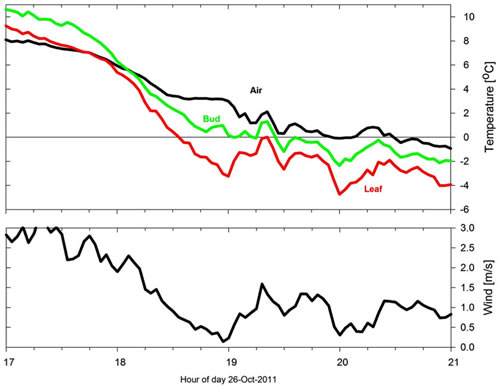 Figure 1: Leaf and bud temperature approximations measured with an Apogee SF-110 compared to air temperature (top panel) and wind speed (bottom panel) on the evening of October 26, 2011. Leaf and bud temperatures were both below air temperature after 6 PM (hour 18) and reached the freezing point well before the air.
Helpful Links: