Infrared Radiometers

Infrared Temperature Sensors
Accurate non-contact surface temperature measurement
Most accurate infrared radiometer on the market
Measures surface temperature rapidly
Uncertainty of 0.2°C (95% confidence)
8-14 μm germanium atmospheric window
Radiation shield included
Multiple field of view (FOV) options
Calibrated target temperature range from -30 to 65°C
Rugged and lightweight
Available in sensor-only version with pigtail leads (for dataloggers) or with handheld meter
Four year warranty
---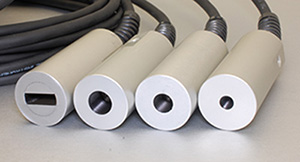 Apogee Instruments Infrared Radiometers (IRRs) measure surface temperature by converting thermal energy radiated from any surface in its field- of-view (FOV) to an electrical signal with a response time less than 1 second. Each IRR carries an impressive uncertainty of 0.2°C at 95% confidence to ensure accurate measurements. The resilient 8-14 μm germanium window corresponds to the atmospheric window in order to minimize the effects of water bands below 8 μm and above 14 μm. The radiation shield, included free of charge with every IRR, insulates your sensor from rapid temperature changes, thus reducing noisy measurements. Multiple field-of-view (FOV) options range from half angles of 14, 18, and 22 degrees, for circular apertures, to 13 and 32 degrees for the vertical and horizontal half angles, respectively, of the horizontal aperture. The large range of calibrated target temperature, from -30 to 65°C, allows you to make accurate terrestrial measurements when the sensor body temperature is within 20°C of the target temperature. A durable clear anodized aluminum housing makes your sensor strong and lightweight, capable of withstanding extreme weather conditions.
Application Information

>

Visit our knowledge base for more information
Models
For other temperature sensor options click here.
---