Solar Irradiance
Measure Photon Flux and Energy Flux Spectra
Measures radiation spectra in relative, energy (Watts), or quantity units (moles), as well as reflected and transmitted spectra
Ruggedized fiber-optic spectroradiometers
Designed for portability in a rugged aluminum enclosure without moving parts
Apogee exclusive cosine-corrected detector accurately measures low angle light
Calibrated measurement ranges from 300 to 1000 nm (NIST traceability) with 1.5 nm resolution
All-in-one package including software interface and is powered via USB cable from laptop or desktop computer
---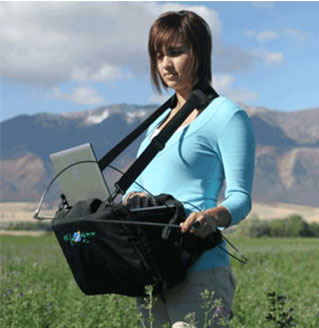 Clients ask how a spectrometer and a spectroradiometer differ. A spectrometer measures relative intensity, while a spectroradiometer is calibrated to measure quantitative or absolute intensity at different wavelengths of the electromagnetic spectrum.
Apogee Instruments spectroradiometers are reasonably priced and designed with ease-of-use and portability in mind. All models come in a complete package including spectroradiometer, 2 meter fiber-optic cable, cosine-corrected detector, USB cable, and a USB drive containing interface software, calibration files, and tutorial videos. Power to the spectroradiometer is provided through the USB cable, and the interface software/drivers are compatible with all 32-bit and 64-bit Windows operating systems.
NIST traceable calibration files are included with all models allowing for measurements in the ultraviolet, visible, and near-infrared ranging from 300 to 1000 nm (model specific). Beyond calibrated irradiance and illuminance measurements, any model may be used to accurately measure wavelength emissions, reflectance, transmission, and absorption.
>

Visit our knowledge base for more information