Three Wavelength Options
Three wavelength options are available: 350 to 1000 nm, 300 to 850 nm, or 300 to 1000 nm. (Calibrated wavelength ranges for irradiance measurements).
Field Measurements
Small and lightweight with a rugged housing and no moving parts. Powered through the USB port on a computer allowing mobile field measurements.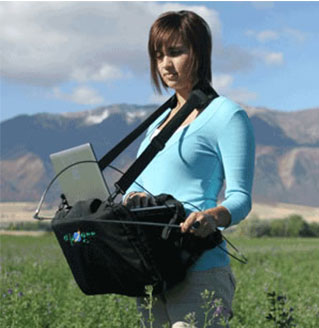 Complete Package
Includes spectroradiometer, two meter fiber optic cable, cosine-corrected detector, USB cable, USB drive with required drivers and software (compatible with all 32-bit and 64-bit Windows operating systems), and shoulder bag (functions as a carrying case and field measurement pack). A reflectance probe and reflectance standard are available as accessories.
Typical Application
Measurement of spectral output (energy flux density, photon flux density, or illuminance) of radiation sources for plant or human lighting, reflectance and transmittance measurements of natural and synthetic surfaces and materials (often plant leaves and canopies), and absorptance measurements of chemical samples.