Dr. William Quinton of the Wilfrid Laurier University has studied the hydrology of cold regions in Canada, where snowmelt runoff is a big contributor to local hydrology.
In one study, Dr. Quinton measured several variables in Yukon Territory, Canada, as a snowdrift containing 10,820 cubic meters of snow melted into runoff. Infrared radiometers mounted on a meteorological tower recorded the soil temperature at the downslope edge of the drift.
Read the full journal article.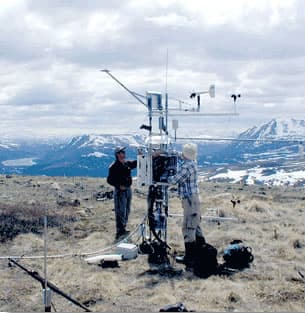 Application Summary
---
Summary
Measuring ground surface temperature to measure snow runoff.
Apogee Sensors Used
Organization
Dr. William Quinton of the University of Wilfrid Laurier
Location
Yukon Territory, Canada
Reference Article