ORIGINAL SUNLIGHT USB QUANTUM SENSOR - Designed by world-renowned crop physiologist, Bruce Bugbee, PhD, the Apogee SQ-420X USB smart quantum sensor features Apogee's older and more economical photodetector that is excellent for measuring photosynthetically active radiation (PAR) accurately under sunlight, metal halide, and high-pressure sodium lights. For measuring other light sources, including LEDs, we recommend using our newer full-spectrum or ePAR sensors.
FOR SCIENTISTS & SERIOUS GROWERS - Unlike cheaper LUX or footcandle sensors which are sometimes marketed as grow light meters, but are meant for measuring light for human vision, our sensors feature a laboratory-grade photosynthetic photon flux density (PPFD) optical detector precisely calibrated to measure the light intensity in µmol m-2 s-1 of the specific color wavelengths emitted by sunlight, MH, and HPS lights that are used by plants for photosynthesis.
USB COMPATIBLE - Smart quantum sensor can be connected directly to a computer (Windows or macOS X) for taking spot measurements or graphing and datalogging real-time PPFD using the included ApogeeAMS software. The sensor can also act as a stand-alone PAR datalogger by simply connecting it to most standard 5 V DC USB power plugs.
ACCURACY & STABLE CALIBRATION - The sensor combines the intensity of all photons between 400 and 700 nm under sunlight, metal halide, and high pressure sodium lights to give a single PAR reading in µmol m-2 s-1 within 5 % uncertainty. Unlike hobby-grade PAR meters that are sometimes accurate out of the box, but then lose their calibration quickly, Apogee meters and sensors have an accurate and stable calibration with an industry-leading drift rate of less than 2 % per year.
RUGGED & EASY TO USE - Quantum sensor head is machined aluminum and potted solid with epoxy for years of use in harsh environments, including underwater. Internal memory within the sensor head is capable of storing 10,000 user-specified periodic measurements that can be downloaded as a CSV file to a computer for analysis. For products with both a meter and a sensor, please see our other original X, full-spectrum, or ePAR meters.
MADE IN THE USA - All meters are designed, built, and calibrated at our headquarters in Logan, Utah, USA. Apogee Instruments has been creating research-grade instruments for scientists and serious growers for over 25 years. All meters are backed by our industry leading four-year warranty and supported by our world-class, US-based customer support team.
FOR MORE PRODUCT INFORMATION, CHECK OUT THESE LINKS
• Software
MORE INFORMATION ON APOGEE ORIGINAL X QUANTUM SENSORS >> click here
Software Overview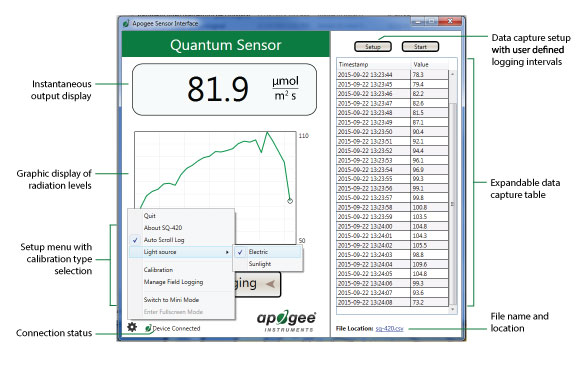 Internal Data Storage

The sensor has internal data storage capability with the ability to hold up to 10,000 measurements. This allows the sensor to collect data while connected to most stand-alone 5 V DC power supply such as a USB wall adapter.
No Datalogger Required
The sensor can be connected to a desktop or laptop computer via USB 2.0 type A plug, to be used with the ApogeeConnect software (Windows compatible, XP and later; Mac compatible, 10.10 and later). The included Apogee software gives the user control of data logging and calibration settings, provides a real time output display and graph of PPFD measurements and allows the data set to be saved as a csv file.
Click here
to download the ApogeeConnect software for USB sensors.
Independent Calibration
The SQ-420X is calibrated independently for sunlight and electric light to improve measurement accuracy. The light source calibration can be selected in the settings menu of the Apogee software.
Resolution
0.1 µmol mˉ² sˉ¹
Calibration Factor
Custom for each sensor and stored in the firmware
Calibration Uncertainty
± 5 %
Measurement Repeatability
Less than 0.5 %
Non-stability (Long-term Drift)
Less than 2 % per year
Non-linearity
Less than 1 % (up to 2500 µmol mˉ² sˉ¹)
Response Time
Software updates every second
Field of View
180˚
Spectral Range
370 nm to 650 nm (wavelegnths where response is greater than 50% of maximum)
Directional (Cosine) Response
± 5 % at 75˚ zenith angle
Temperature Response
-0.04 % per C
Operating Environment
10 to 60 C; 0 to 100 % relative humidity; can be submerged in water up to depths of 30 m
Dimensions
24 mm diameter, 33 mm height
Mass
Sensor head weighs 90 g
USB Cable
4.5 m (15 ft)
Current Draw
61 mA
Warranty
4 years against defect in materials and workmanship
Manufactured
Made in the USA