Apogee's newest, cutting-edge ePAR sensor was created in 2021 as an upgrade to our ePFD sensor and designed to measure the newly defined 400-750 nm ePAR radiation range that research has shown to be photosynthetically active, beyond the traditional 400-700 nm range. The SQ-616 ePAR, smart sensor can be connected directly to a computer (Windows or macOS X) via USB for taking spot measurements or graphing and datalogging real-time PPFD using the included software. The sensor can also act as a stand-alone PAR datalogger by simply connecting it to most standard 5 V DC USB power plugs. Internal memory within the sensor head is capable of storing 10,000 user-specified periodic measurements that can be downloaded as a CSV file to a computer for analysis.
The sensor features a rugged, aluminum housing that is fully-submersible and built to withstand harsh conditions. The sensor cable includes an IP68 marine-grade stainless-steel cable connector to simplify sensor removal and replacement from permanent installations for maintenance and calibration. Typical applications of ePAR sensors include measuring total ePAR intensity over plant canopies in all growing environments, monitoring and adjusting grow lights, and researching plant morphogenic activity and photobiology. Many next generation LED fixtures, the sun, and other light sources emit these newly confirmed Far-red photosynthetic wavelengths, but they have not been measurable by traditional 400-700 nm PAR meters until now.

The analog version of this sensor (SQ-610) comes with the inline cable connector placed 30 cm from the sensor head for either standard use as a long-cable pigtail sensor, or for use with our microCache Bluetooth Micro Logger by unscrewing the connector, discarding the long section of cable and then screwing the sensor to the mating connector on the microCache.
FOR MORE PRODUCT INFORMATION, CHECK OUT THESE LINKS
MORE INFORMATION ON APOGEE ePAR SENSORS >> click here
How is the SQ-616 different from previous Apogee quantum sensors?
The SQ-616 is an extended photosynthetically active radiation (ePAR) sensor with a spectral range of 400 to 750 nm ± 5 nm, which can be seen in the graph below.
Software Overview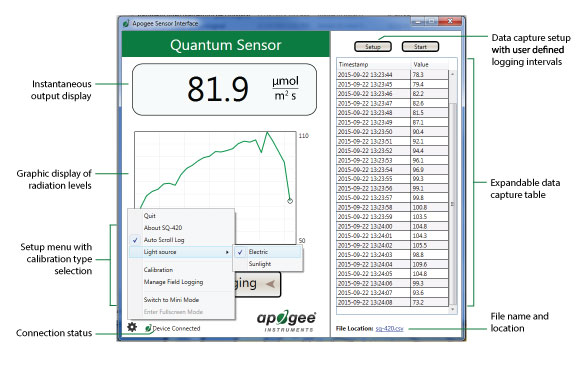 No Datalogger Required
The sensor can be connected to a desktop, laptop, or tablet computer via USB 2.0 type A plug, to be used with the Apogee software (windows compatible, XP and later; Mac compatible, 10.10 and later). The included ApogeeConnect software gives the user control of data logging and calibration settings, provides a real time output display and graph of PPFD measurements and allows the data set to be saved as a csv file.
Click here
to download the ApogeeConnect software for USB sensors.
Internal Data Storage

The sensor has internal data storage capability with the ability to hold up to 10,000 measurements. This allows the sensor to collect data while connected to most stand-alone 5 V DC power supply such as a USB wall adapter.
Where is the SQ-616 used?

The SQ-616 is used for measuring the newest generation of LED grow lights with wavelengths outside the traditional 400-700 nm PAR range. Research has shown the value of adding far-red LEDs to fixtures to achieve various disease control and photomorphogenic effects. The extended range filter of the SQ-616 allows it to measure photons from PAR and Far-red.
Resolution
0.1 µmol mˉ² sˉ¹
Calibration Factor
Custom for each sensor and stored in the firmware
Calibration Uncertainty
± 5 %
Measurement Repeatability
Less than 1 % up to 4000 µmol mˉ² sˉ¹
Long-term Drift (Non-stability)
Less than 2 % per year
Non-linearity
Less than 1 % (up to 4000 µmol mˉ² sˉ¹)
Response Time
Software updates every second
Field of View
180˚
Spectral Range
400 to 750 nm ± 5 nm (wavelengths where response is greater than 50 %)
Directional (Cosine) Response
± 2 % at 45 ˚, ± 5 % at 75 ˚
Temperature Response
-0.11 ± 0.04 % per C
Azimuth Error
Less than 0.5 %
Tilt Error
Less than 0.5 %
Housing
Anodized aluminum body with acrylic diffuser
IP Rating
IP68
Operating Environment
-40 to 70 C, 0 to 100 % relative humidity, can be submerged in water up to depths of 30 m
Dimensions
30.5 mm diameter, 37 mm height
Mass (with 5 m of cable)
140 g
USB Cable
4.5 m (15 ft)
Current Draw (when logging)
61 mA
Warranty
4 years against defects in materials and workmanship
Manufactured
Assembled in the USA